ARRIVE, ENJOY, LET YOURSELF GO...
The same service as in a hotel and the freedom of a tower keeper. You will be warmly welcomed by us at the agreed time of arrival, briefed on the special features of the tower, the minibar and technology, and you will ask when breakfast may be served for you in our restaurant the next morning. Then the whole tower is yours!
Bathrobes, towels, prosecco, sparkling wine, red and white wine, water etc., top HiFi and TV equipment.
This is what you should bring with you:
ipod, good book, CD's, DVD's, dearest(s) people!
Services:
5 nights in our historic tower
5 x gourmet breakfast in our restaurant
1 x 4-course welcome menu on your arrival day
1 x 4-course menu "a-la-region" on your farewell evening
Discount tickets for a romantic Rhine boat trip through the World Heritage Valley
Hiking sticks and rucksack free of charge on request and by prior arrangement.
VRN guest ticket, free bus and rail travel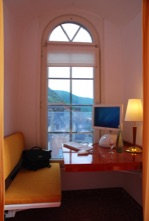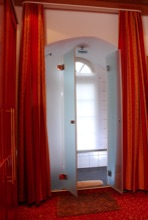 Prices per Persons
Exclusive for 2 persons:
(Whole tower with 1 comfort double room and lounge)
6 days from Sunday to Friday € 628,-.
6 days over a weekend or holidays € 734,-
Cheaper for 4 persons:
Whole tower with 2 comfort double rooms and lounge)
6 days from Sunday to Friday € 479,-.
6 days over a weekend or holidays € 560,-